An AI Digital Assistant that upgrades your learning capabilities
Consolidates the expertise of specialists in education, psychology and wellbeing. Then, simplifies it to a set of easy activities and content, personalised for you. And nudges you to complete them.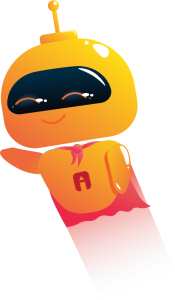 Lifelong Learners
The Pandemic has changed Learning forever. Learners are struggling with mental health issues when they are forced into post-pandemic learning using pre-pandemic tools.

Successful Students
Empower your students to happily achieve higher results
The RevvEd.AI Learning Coach enables each student to understand himself / herself in a level of detail that was not possible till now. It coaxes each student to realise the full potential. Just the way a dedicated coach would

Engaged Employees
Create a digital-first culture through Learning & Development
The RevvEd AI Learning Coach can help the employees embrace the new normal more easily, with guided support helping them on the journey to the cultural change required for Digital adoption. As you show genuine concern for their wellbeing

Prime
Software is primed with skills & knowledge of specialists
Knowledge and skills of the human experts converted into tools, templates, and methodologies to drive user transformation journeys

Perceive
Converses to understand each learner as a "human"
RevvEd AI Learning Coach humanises each learner. It understands each person across several human dimensions like strengths, weaknesses, mental health, personality, ambitions & habits. 
This deep understanding of each individual forms the basis of personalising the coaching.

Plan
Plan Converts "intent" into actionable micro-tasks, based on best-practices
RevvEd AI Learning Coach breaks down the learning goals into discrete tasks, spread over a period of time. Over time, the technology will adjust the milestone dates to deliver a customised learning plan tailored specially for each learner!

Personalise
Motivates habit formation for micro-tasks, with well-placed nudges
RevvEd Ai Learning Coach knows where your learners might need a little nudge to complete the tasks. Over time, the Coach will learn and deliver nudges when you are most likely to act on them and till it becomes a habit!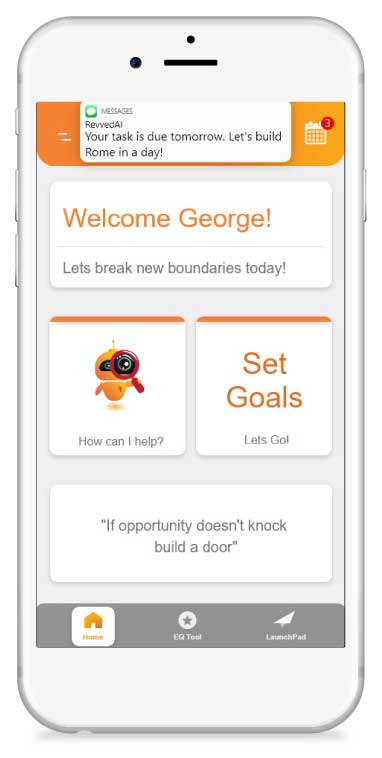 Alerts
Timely in-app and SMS alerts to enable you stay on top of your most important tasks
Set Goals
The algorithm prioritises your tasks and coaxes you to do the one most important. Machine Learning would get more accurate with prioritising as you use the system more.
LaunchPad
Access to a library of content from top experts to help you improve!. With usage, the content would be personalised to the Goals you set for yourself.
EQ Tool
Micro-tests to self-assess your current state. Attractive charts and graphs for analysis.
Inspirational Quotes
Dynamically updating quotes to motivate you to complete your tasks. AI would deliver more appropriate quotes with usage.
Friendly Digital Assistant
Uncover your strengths & weaknesses
Identify your productive hours.
Monitor your physical and emotional well-being
Make you smile!
(Coming soon)
Statistics
Charts and graphs on your progress. Creates early warnings in time for course-correction. Links you to a "human expert" you could reach out to when needed.
Learning Goals
The Learning Goals are broken down into tasks. You can see your pending tasks in a calendar view. (Coming soon)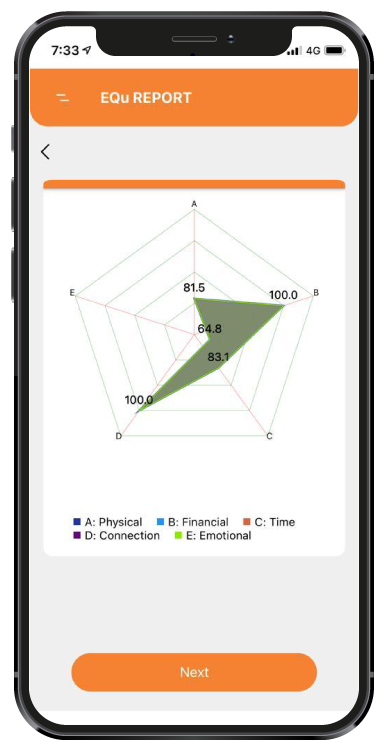 SingularityU Australia's mission is to educate, inspire, and empower leaders to apply exponential technologies to address humanity's grand challenges. At the SingularityU Australia Summit's Wellness Program, we wanted to create an immersive and enduring experience. To that end we engaged with the RevvEd.ai Learning Coach App to transform the lives of many. That's what we collectively do.
Ideation without execution is hallucination and the RevvEd.AI Learning Coach has been executed with precision and innovation. We look forward to working together on future projects. There are many more lives we can impact together and many more superheros to be unleashed. #UnleashYourSuperHero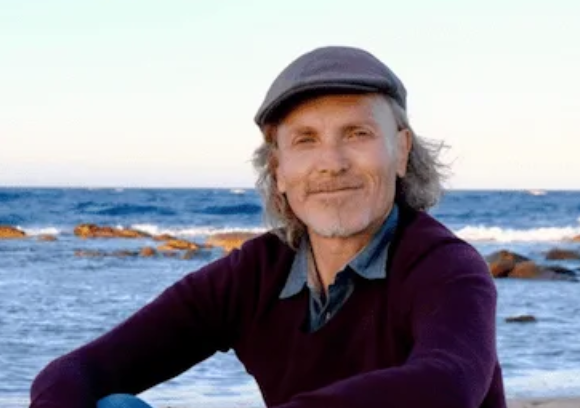 Lawrence Mitchell
Founder & Chief Wellness Officer, Raw Energy
Lawrence Mitchell is the Founder and CWO at RAW Energy, and former Chief Customer Officer of SumoSalad and Chief Marketing & Wellbeing Officer of RELX Risk & Analytics.
As a Wellbeing & Marketing coach, Lawrence's Total Wellbeing philosophy sees everyone as whole people with whole lives. He works with individuals and teams to create psychologically balanced people and cultures during periods of rapid change and uncertainty. Based in Sydney, Lawrence runs virtual workshops and events with corporates and individuals around the world; is the Editor and Publisher of EQUILIBRIUM, and author of two books: Success Without Stress: How to prevent burnout and build resilience, and A Better Life: Discover what you really want, and how to get it.
Check out our approach to AI Education in this TEDx talk, 
"The missing piece in democratising AI is You" 
Join the ReVVolution in Education! 
Email us and we will get in touch with you